Elizabeth
& Connor
Home Study
Approved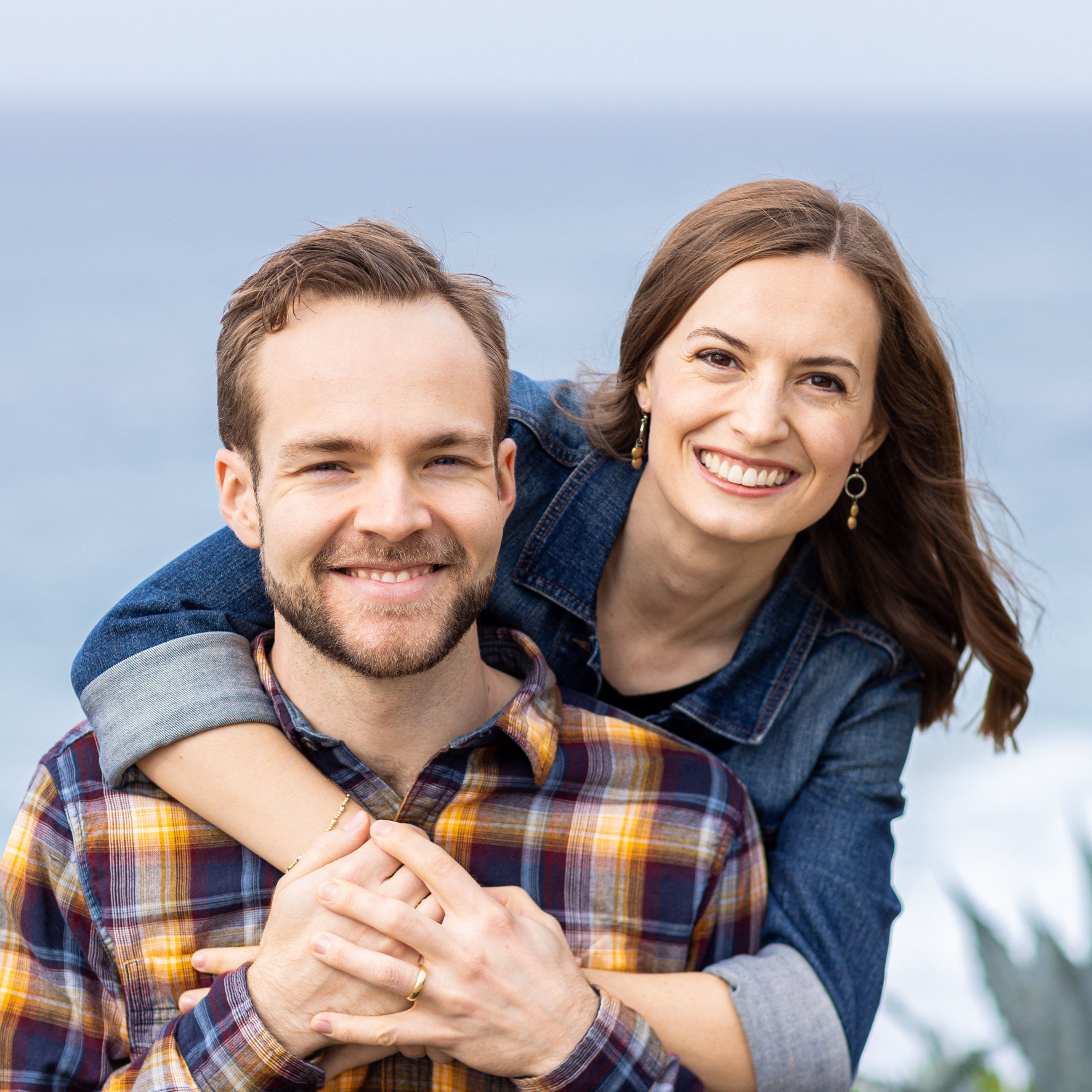 Elizabeth
Caregiver
Status:
Education:
Bachelor's Degree
Profession:
Software Engineer (but will be stay at home mom!)
Political Affiliation:
Prefer not to say
Connor
Hero
Status:
Education:
Bachelor's Degree
Profession:
Mechanical Engineer
Political Affiliation:
Prefer not to say
Hello! Thank you so much for taking the time to read a little bit about us and our dreams for our family. Our names are Connor and Elizabeth, and we are excited to grow our family through the miracle of adoption! We live in sunny Huntington Beach, California, where we love to take walks along the beach, hike in the mountains, and sample delicious tacos all over the area. We can't wait to share our life with a precious little one and expand the joy in our hearts through a new addition to our family. Since early on in dating, we've known that we want to grow our family through adoption. Adoption has always been a part of Connor's life, as his mother was adopted. We are thankful for the role adoption has played in our extended family! We know that the magnitude of your decision is unimaginable, and we greatly admire your courage and love for your child. We are praying for you as you decide what is best for your child, whether adoption becomes a part of your story or not. Thank you for taking some time to get to know us.
Elizabeth & Connor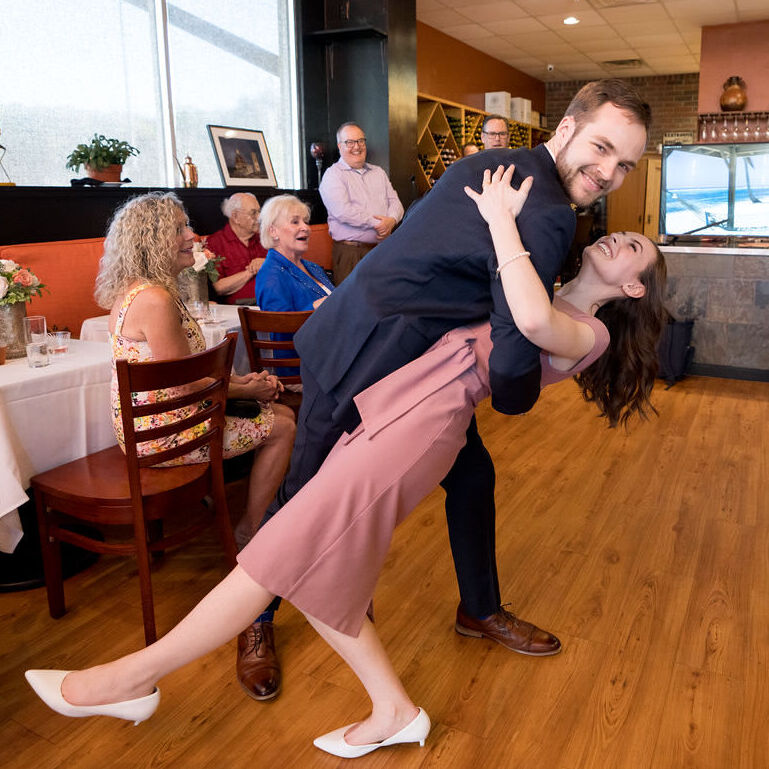 One of our new hobbies is swing dancing! Showing off our moves at a family gathering.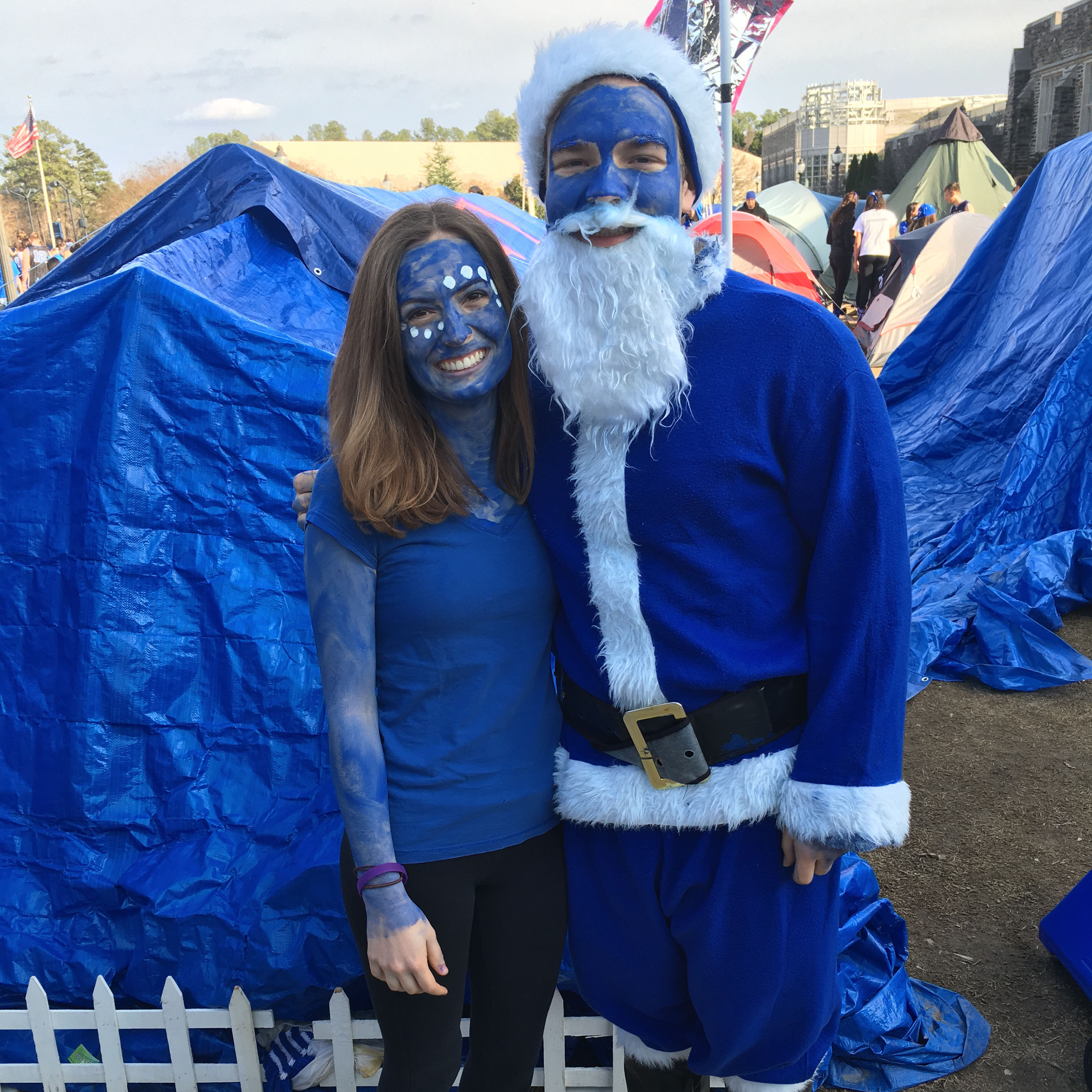 We are crazy for our college basketball team. Go Blue Devils!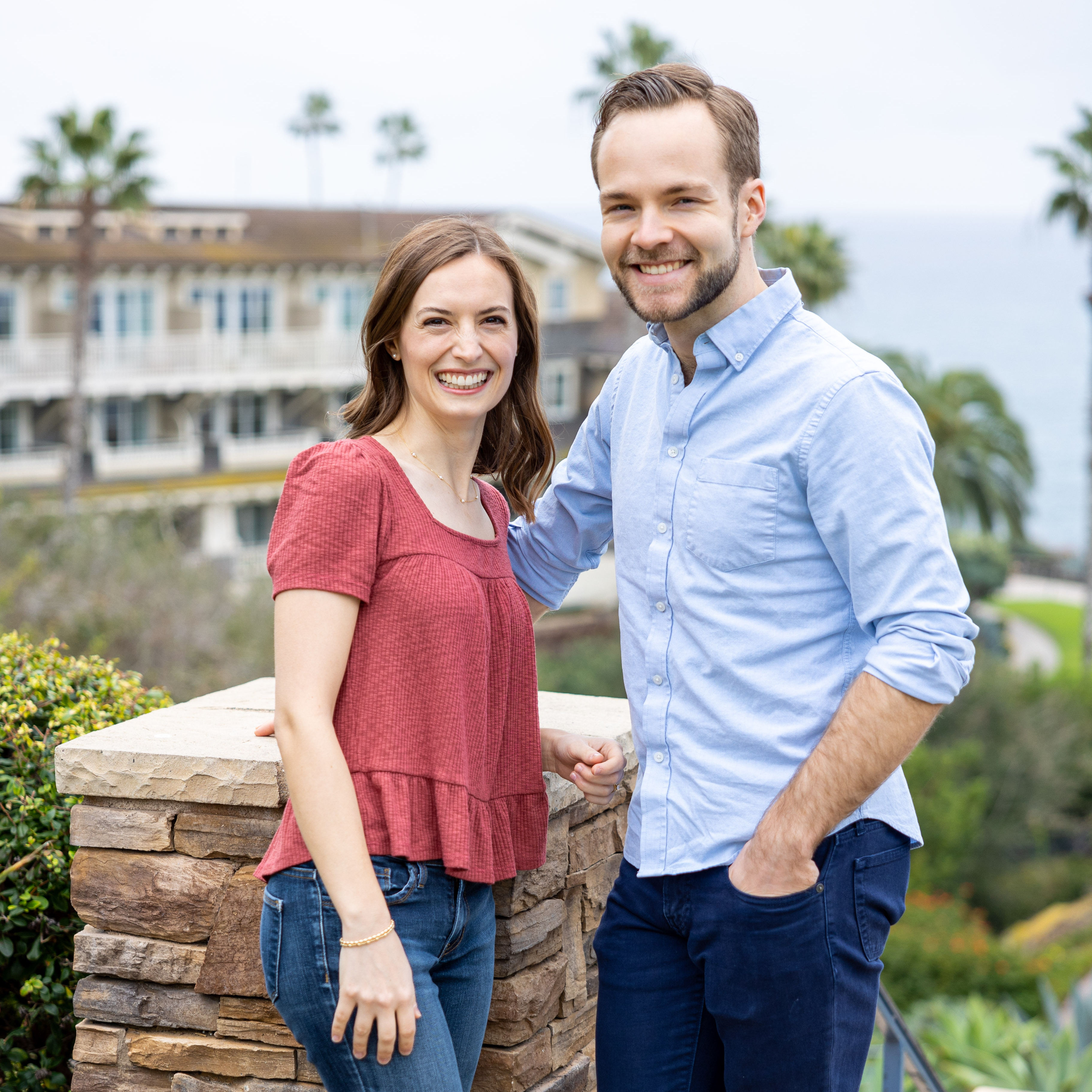 Dogs or cats?
Definitely dogs! I grew up with dogs, and we plan to get a dog someday (hopefully soon!).
-Elizabeth
In five years our relationship with our child's birth mother will…
hopefully be an open one, where our birth mother is a part of our child's life. Part of loving our child is sharing the story of how they came to us, something we will do from the first day they come to our family. We desire an open adoption and are open to sharing photos, regular communication, and periodic visits. We want you to be in our child's life, and you will always be spoken of with the utmost honor and respect within our home.
-Elizabeth
What is the best word to describe our family?
Loyal. We care deeply about each other and have a real commitment to putting each other and our family first, no matter what.
-Connor
What's the first thing that comes to mind when you look at the night sky?
I always look for the Big Dipper. I love finding that familiar shape (the only constellation I know haha!) from different spots.
-Elizabeth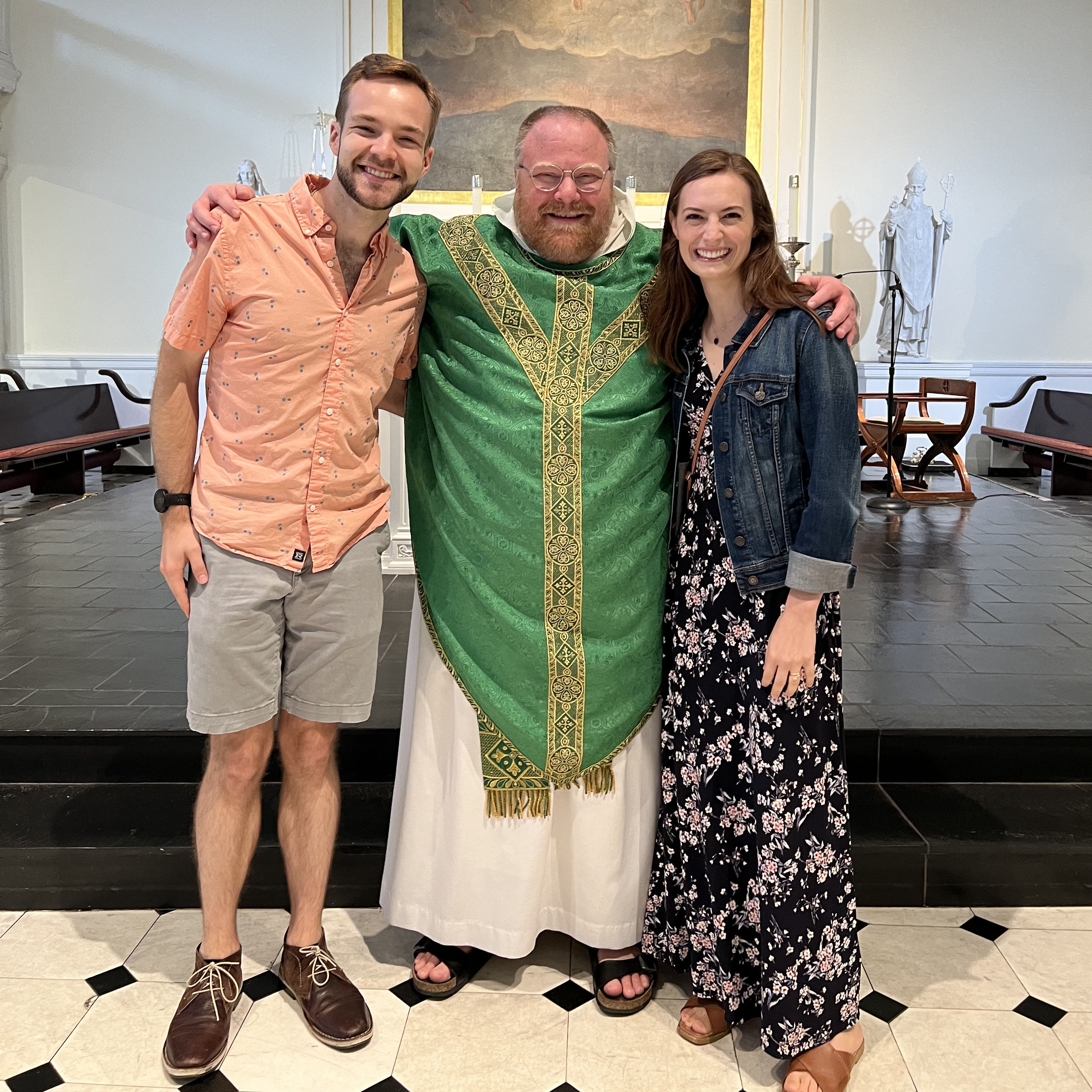 Our faith community is so important to us. Here we are with the priest who married us! We're thankful to call him a dear friend.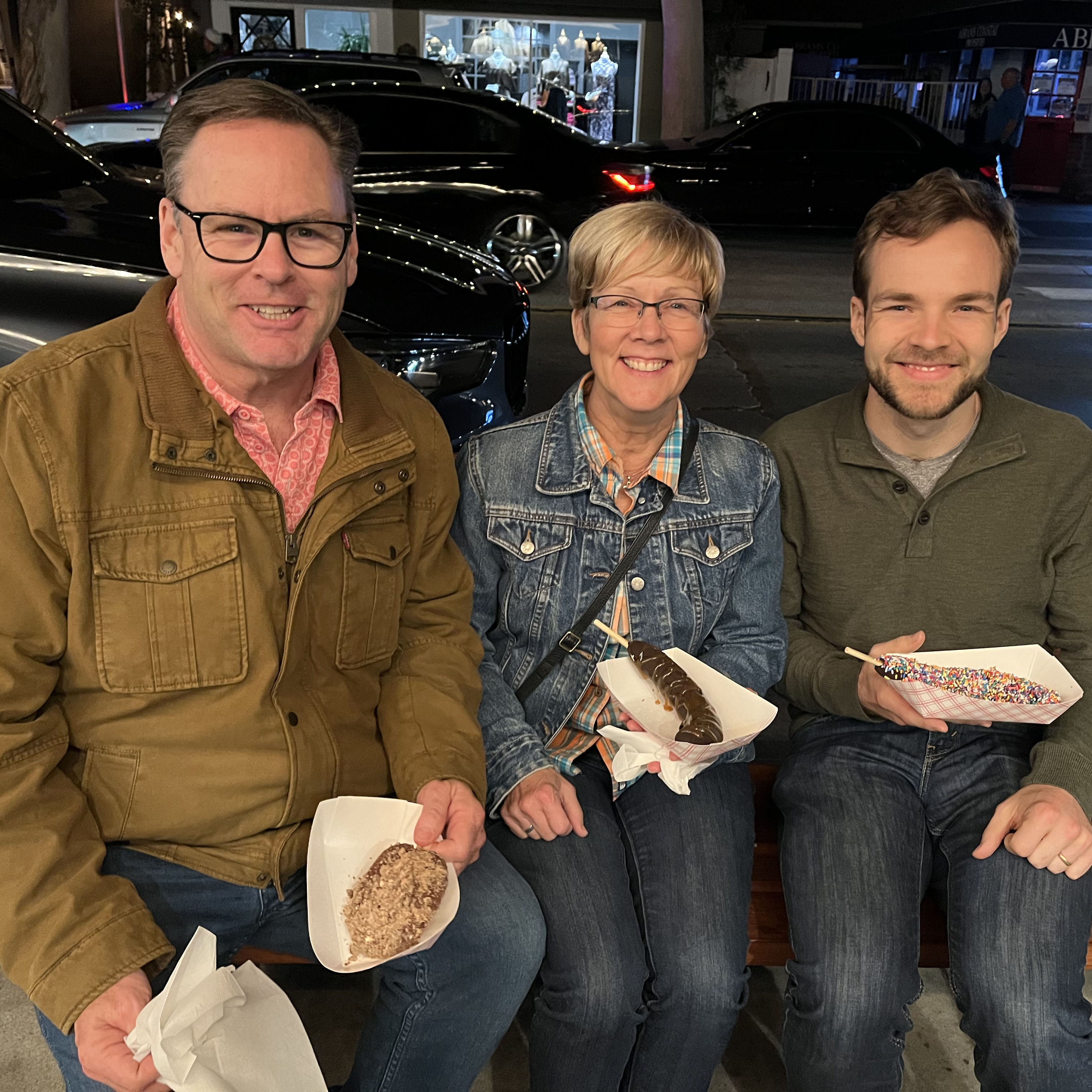 Enjoying a local delicacy - frozen bananas - with Connor's parents!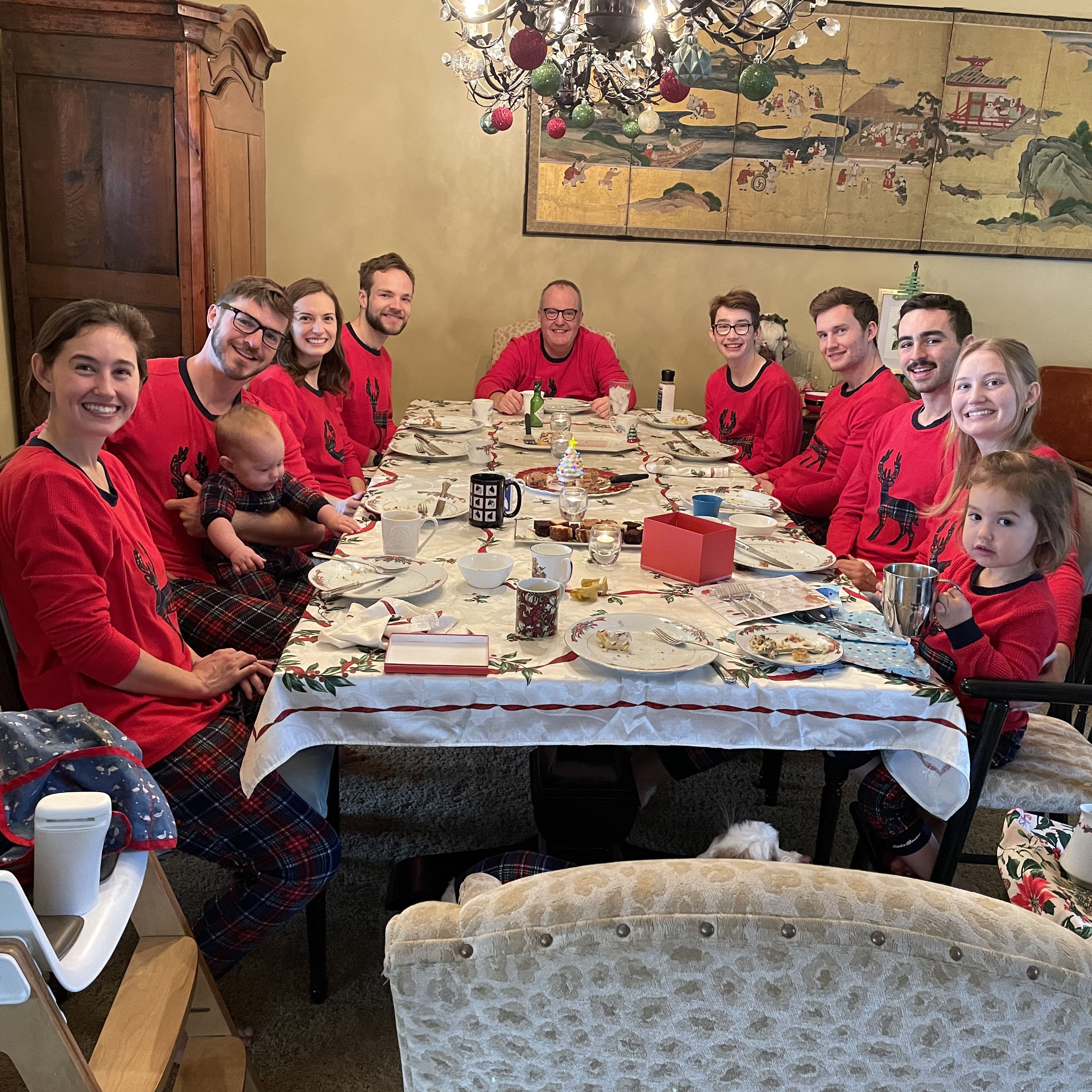 Christmas morning with (most of) Elizabeth's family. Elizabeth is one of 6 kids and we love the fun dynamics of a big family!
My favorite place in the World is...
Durango, Colorado. I went to summer camp in this small town in southwest Colorado and Elizabeth and I returned there on our honeymoon. I love the proximity to the outdoors, all the natural beauty, and the small-town feel. There's also a spot that has both donuts AND breakfast burritos. What more could you ask for?!
-Connor
Favorite season and why?
Fall, because I love cozy sweaters, curling up inside with a book and a cup of tea on a cold and cloudy day, and all the spiced, warming food!
-Elizabeth
My philosophy on parenting is...
to empower my children! My mom and dad always treated me like I was worthy of respect and that my thoughts were worth hearing. That made me feel loved and respected, and I plan to treat my children the same way.
-Connor
Complete the sentence, "I can't live without……"
Waffle House! I love the delicious, greasy hashbrowns and the freshly cooked eggs and bacon.
-Connor
My neighborhood is a good place to raise a family because…
it offers so much to do! Our neighborhood has a private playground and swimming pool, including a kiddie pool. And, we're just a short 10 minute drive from the beach! We love that it will be easy to get outside for playtime regularly. Our neighborhood is very family friendly, and the kids on our block frequently play together outside our houses.
-Elizabeth
Complete the sentence, "I can't live without……"
My faith. My Catholic faith has provided me so much comfort throughout my life, because I know that in both joyful and difficult times, God is with me and working all things for good. I'm excited to share the richness and comfort of our faith with our child!
-Elizabeth
Do I have kids? How do they feel about a sibling?
No kids yet, but we dream of having a large family someday!
-Elizabeth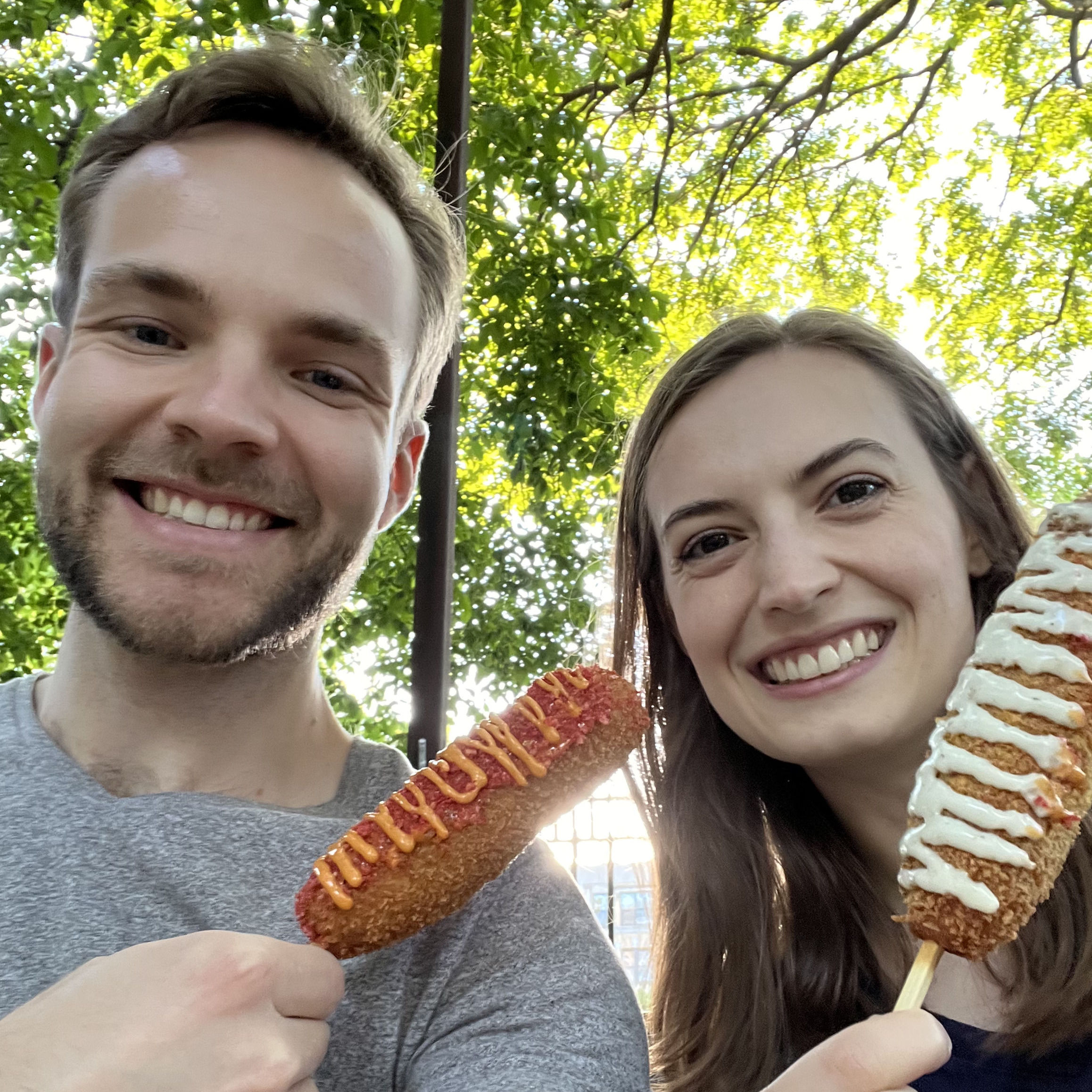 Connor surprised Elizabeth with a date to get corn dogs, one of her favorite foods!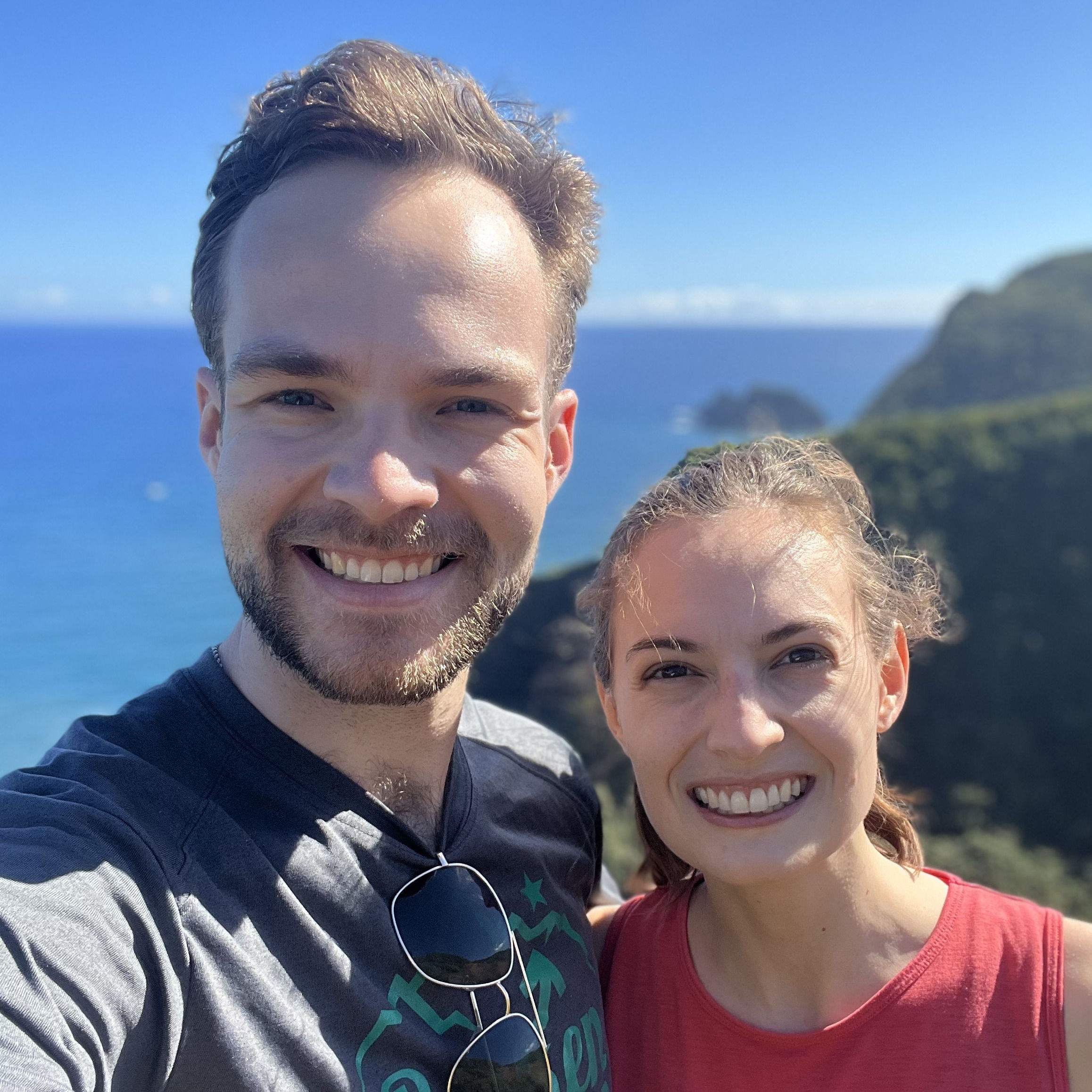 We love to hike and explore all the beauty that nature has to offer!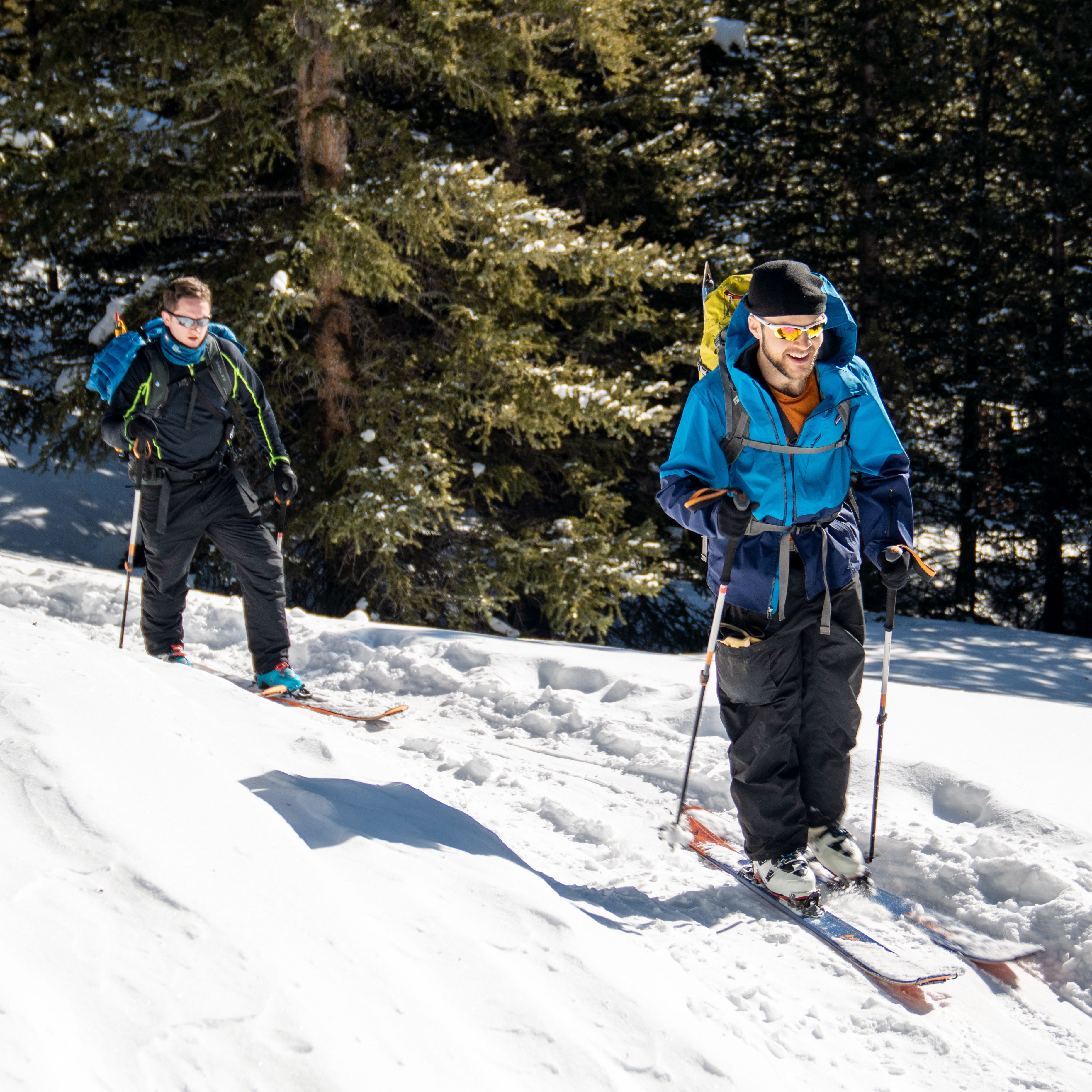 Connor loves outdoor activities - backpacking, skiing, scuba diving, you name it! Here he is backcountry skiing with some friends.
My neighborhood is a good place to raise a family because…
it has just the right mix of family-friendly attributes and cool features. Our community is very safe, there are lots of young families, and we have great schools. We're also 10 minutes to the beach and one hour from the mountains!
-Connor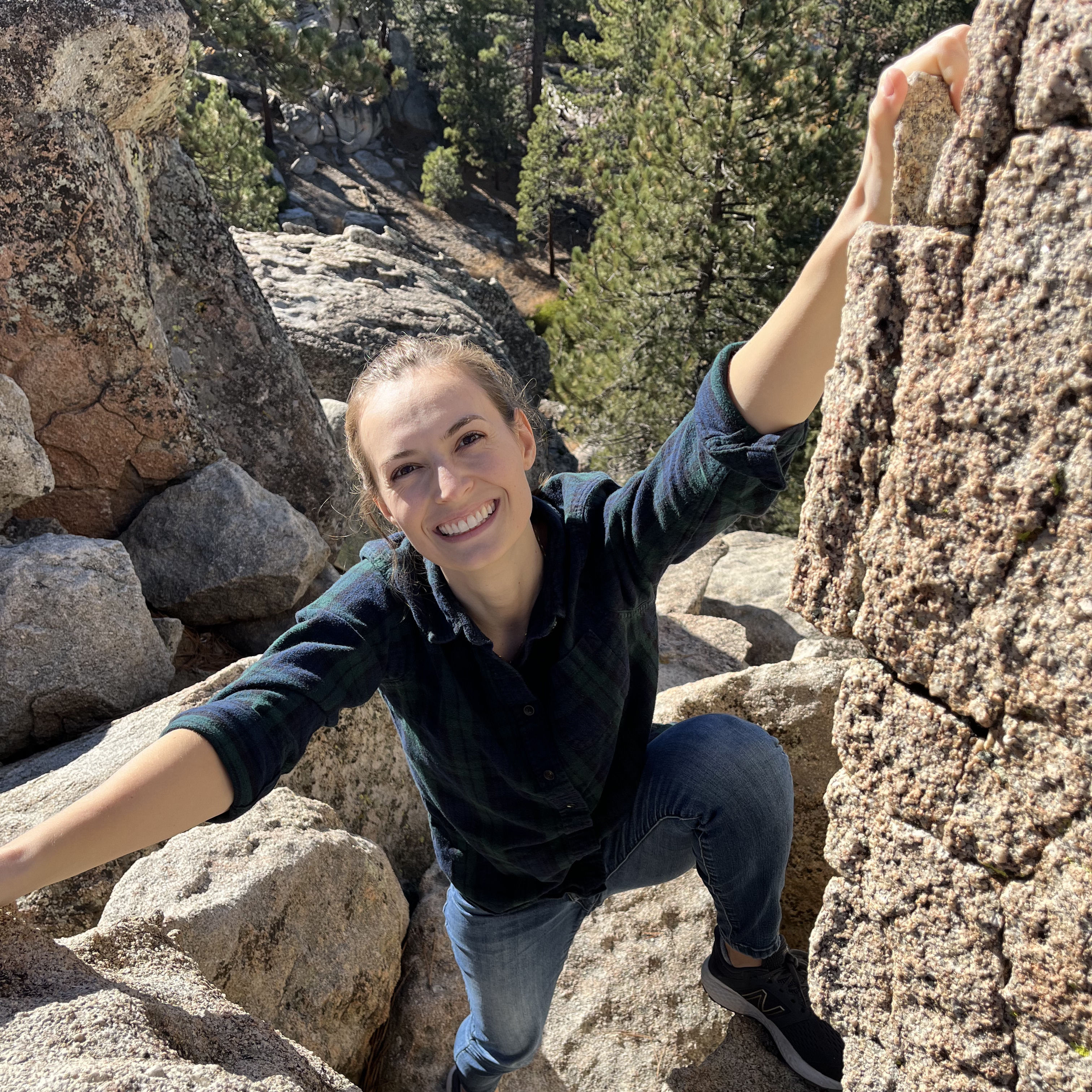 Elizabeth climbing some rocks on a hike. I'm a little afraid of heights, but the view was worth it!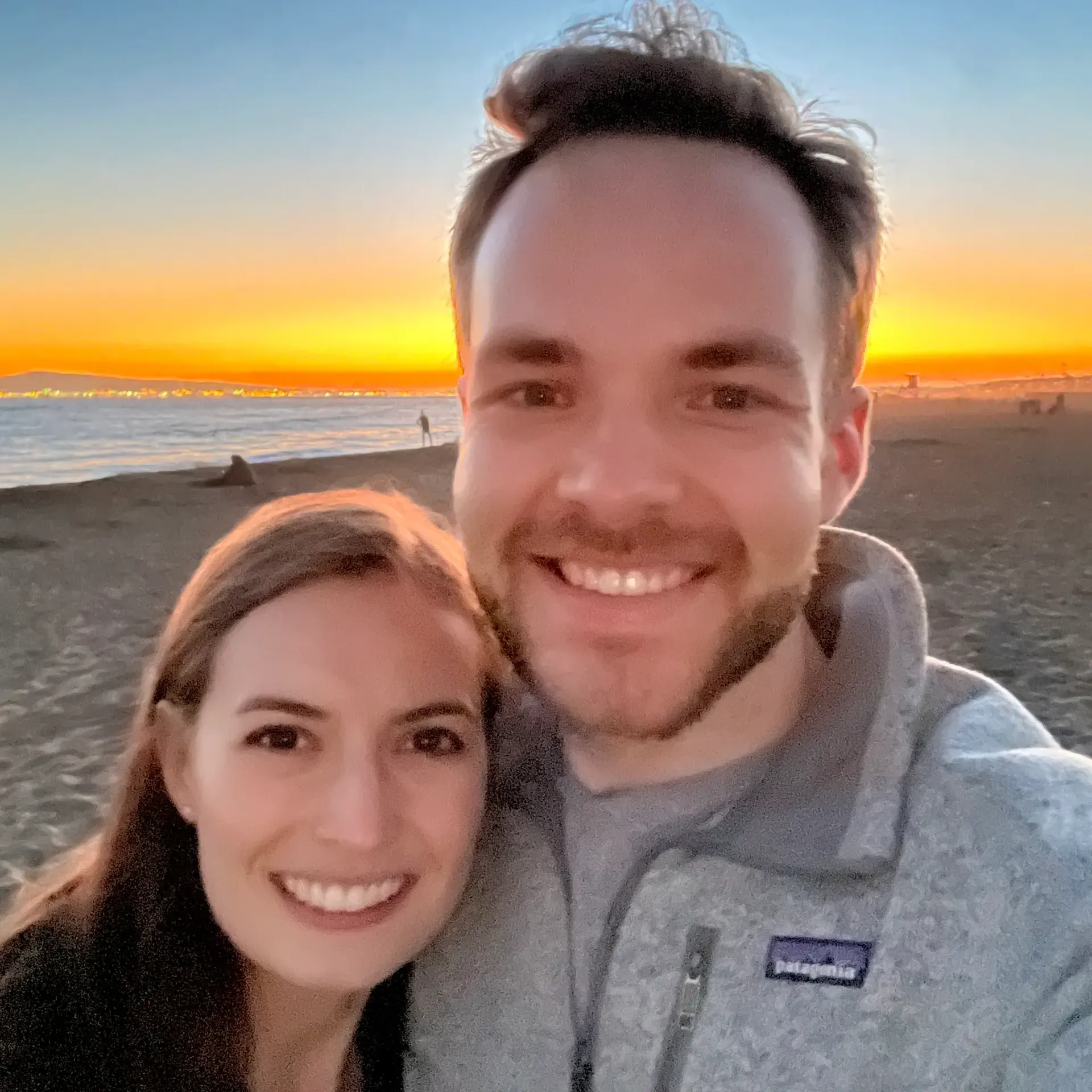 Enjoying a sunset at the beach near our house!